Why the time is now
1. The products are out there
In the past, it was difficult to find green energy products, especially for business energy. These days, there are plenty of suppliers offering green electricity. Some suppliers have completely switched to 100% green. And green gas is becoming more and more available.Let us help you find the right green energy products for your business.
2. Price is no longer an issue
Until now, if you could find a supplier offering green energy, you paid a hefty premium for it. Today, green energy tariffs are comparable with brown energy products.Let us help you keep your energy bills as low as possible, whilst using green energy. We even have our own Green commission commitment.
3. Legislation
The UK is the first major economy to legislate for a net zero emissions target. The UK Government has pledged to cut greenhouses gases to nearly zero by 2050. The Scottish Government has gone even further and pledged to reach that target by 2045.For this to be realistic, further legislation will need to be introduced. This has already happened with petrol and diesel cars.You're going to have to do it soon, so let us help you do it now.
4. Your employees care
In a recent survey 74% of young workers and 66% of over 35-year-olds said they would be happier working for a company with a positive impact and purpose in the world.In another survey 64% of millennials said that they wouldn't take a job at a company that wasn't socially responsible.In yet another survey nearly 70% of employees said that if a company had a strong sustainability plan, it would affect their decision to stay with that company long term.Let us help you make a small change to how you buy energy, that can make a difference to how your staff feel.
5. Consumer purchasing decisions
Another survey, and another resounding result. 96% of consumers feel their own actions, such as donating, recycling, or buying ethically, can make a difference. And 88% said they would like brands to help them be more environmentally friendly and ethical in their daily life.Add to this the fact that climate change is never out of the headlines, with the overwhelming opinion being that we need to act now!By going green with Mycos, you will receive our 'Powered by Green' certificate. This shows your customers (and your staff) that you are doing your bit, and helping them do their bit.
Let us help you swap to greener energy today


How Mycos can help .....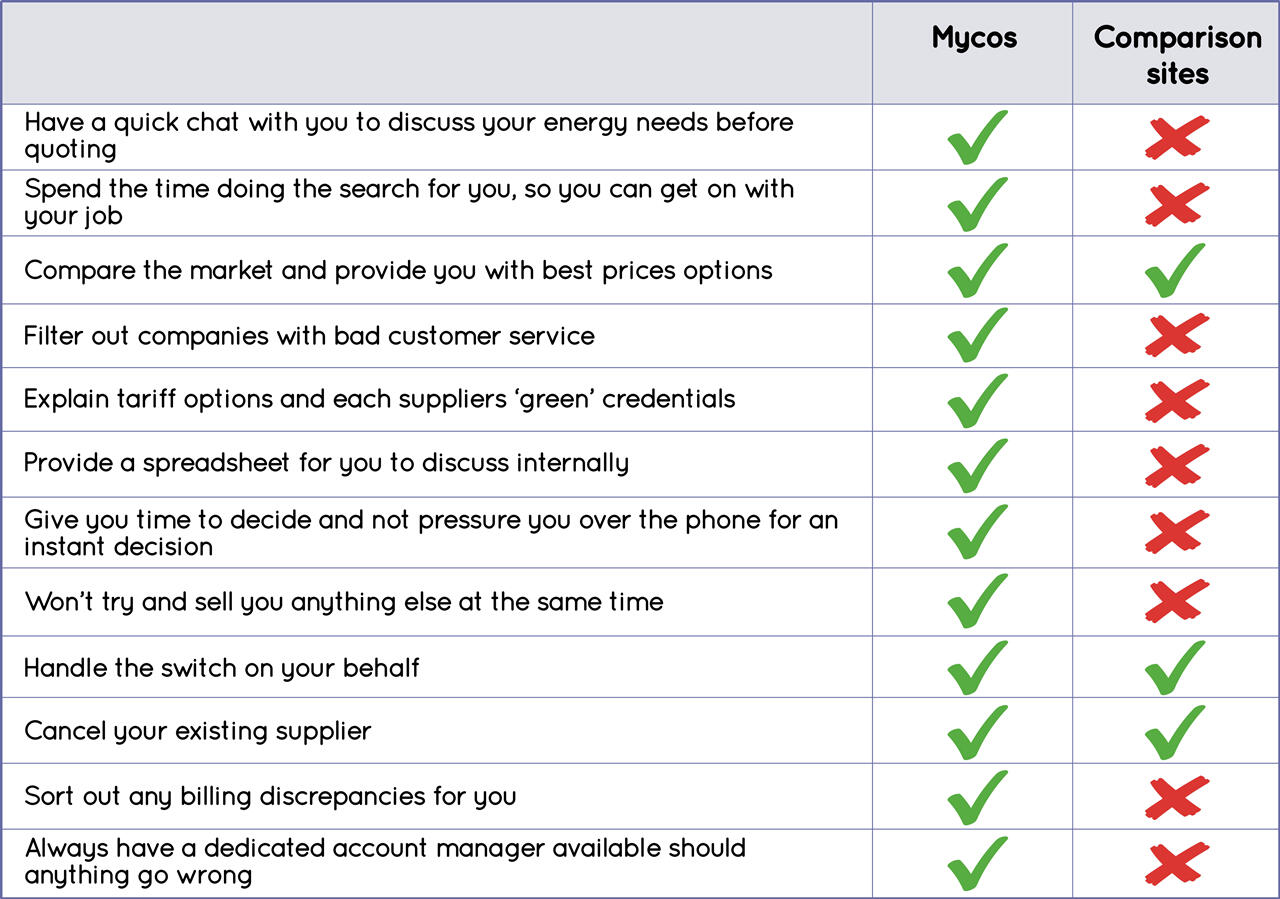 We help you get the best green energy deals and our service is free.Like price comparison and switching websites, we earn our money by getting paid commission from the suppliers. But unlike price comparison and switching websites, we have a Green commission commitment, which means we lower our commission if you go 100% green.

Let us help you swap to greener energy today


About Mycos
At Mycos, our mission can be summed up simply by three things: Better solutions, better value, better service.• Better solutions: Helping you do your bit to help reduce climate change.• Better value: Saving you money on business energy bills.• Better service: Providing a level of customer service that you are so happy with, you will to tell your
friends about us.Mycos founder, John Wilkinson, has put customer service at the forefront of everything he has done in his career.Whether that was booking travel for international business people, selling property or providing utilities to the domestic and business markets.John has run his own businesses and franchises, and knows - as a business owner - how important customer service is to customer satisfaction and business growth.The utilities market doesn't have a great reputation for customer service, but Mycos is changing that.Not only will we save you time and hassle by finding the best green business energy products for your requirements, but we will also handle the switch and sort out any issues that might arise.Our commitment to great customer service goes even further. We filter out suppliers who have bad service and bad customer service records. Because businesses that don't look after their customers properly, don't deserve customers!
Let us take the time and hassle of finding the best green energy deals for you.


How green is green?
When you buy green energy, how confident can you be that green means green?Gas and electricity, regardless of the tariff you're on, is transported through the National Grid. So, it is impossible to direct 'green' energy to green energy customers and 'brown' energy to other customers.Currently, approximately 40% of electricity supplied to the National Grid is generated from a variety of different renewable energy sources.Green gas - made by decomposing biodegradable materials such as crops, human waste, manure and other organic matter - is a much lower percentage compared with natural gas. But this is increasing year on year.By choosing a green electricity tariff, you are making sure that the supplier you choose is supplying the grid with electricity generated from renewable sources.
Understanding Greenwashing
A new phrase has emerged in the renewable energy market, called 'greenwashing'.Greenwashing is a cynical attempt to cash in on the growing demand for environmentally friendly products, where suppliers give misleading information or exaggerated claims about how their products are more environmentally friendly than they actually are.Mycos will help you understand exactly how green the energy that you are buying is.With electricity, if you want to go green, we will only offer you 100% green tariffs.This is not so easy with gas. 100% green gas tariffs are much harder to come by. So if the tariffs we offer you aren't 100% green, we will make it clear what percentage is.And our 'Powered by Green' certificate will help let your customers and staff know you are doing your bit.
Let us help you go as green as possible.


'Powered by Green' certificate
Going green isn't just important to you. It's important to your staff and your customers.Go green with Mycos and we will present you with a 'Powered by Green' certificate to hang proudly in reception, to display on your website and to include in your tenders and proposals.Our certificates come in Silver, Gold and Platinum.• Silver: For businesses that have switched to 100% green electricity.• Gold: For business powered by 100% green electricity and a gas tariff that is a mix of green and brown gas.• Platinum: For businesses powered by 100% green electricity and 100% green gas.
Let us help you go green and help you shout about it.


Green commission commitment
We understand how important it is for everyone to do their bit to reduce climate change.To show our commitment to getting our customers to go green, we have put our money where our mouth is.Our green commission commitment means that we will lower the commission we earn on 100% green energy products.So, when we look for the best green energy deals for you, you know that price will be a little bit better.
Contact us today for the best green energy prices.


Let's go green!
Contact us today to see if you can save money on your business energy and save the planet at the same time. Just complete the form below, or contact us on 0131 344 0285 if you'd prefer to have an informal chat.There is no obligation to buy, so why not just find out how much it would cost?We will take all the searching and switching hassle off your hands, for free. Freeing you up to get on with what you do best.To do that, we do need certain information, all of which can be found on your monthly bill. This will have either been posted or emailed to you, or can be downloaded from your online account.


What our customers say ......
"Ten years ago, we started using Mycos to source the best prices for our gas and electricity.  Since that time, we've benefited from significant savings and enjoyed a positive working relationship with Mycos.  The hard work is done for us - we just have to make a decision based on the options presented."Andrew McGreehin | Finance & Operations Manager | Destiny Church, Edinburgh-"It's a great help having Mycos keep on top of our energy contracts, providing options for renewal, and arranging the switches for us. It's one of those things I wouldn't get round to otherwise!"Susie Gooding | Finance Manager | Stirling Baptist Church-"I would highly recommend Mycos for advice and help when considering a change to your utility provider.  We are a large church with 3 buildings and Mycos has consistently helped us to reduce our energy costs and our administrative costs by aligning our contracts and providers.  Mycos provides a variety of options, which have allowed us to make the decisions that have been right for us. If you're coming towards the end of any fixed term energy contracts, then I would highly recommend contacting Mycos."Katherine Burnett | Finance Director | St Mungo's Church-"Our small charity has relied on Mycos to source the best prices for our energy contracts for a number of years. We have been very pleased with the competitive quotations they submitted to us, enabling considerable savings to be made. We have no hesitation in recommending Mycos and their efficient and friendly service."Ann | Treasurer | Greenside Church, Edinburgh-"Mycos have been providing energy price advice to the Church for a number of years and are providing an exceptional service.  They monitor the prices and give timeous advice to the Church on the best available tariff and once selected manage the changeover in provider if required. I would
thoroughly recommend Mycos. "Martin Fairley | Treasurer | St Cuthbert's, Colinton-"Mycos has helped us over a number of years to ensure we are always getting the best value for money tariffs for our energy supplier.  I would definitely recommend you make use of them – they do the hard work, you get the benefit!"Adrian Galley | Pastor
Musselburgh Apostolic Church | Musselburgh-"I am the Treasurer at Glasgow City Church and we have been using the service of Mycos consulting for over 6 years now. I would highly recommend Mycos Consulting Ltd to help with electricity and Gas contract review, Since using Mycos, John has helped us save on our electricity and Gas bill over the years and also taken the burden of looking for cheaper providers at the end of each contract. Over the years Mycos Consulting Ltd has helped us with the follow:- Obtaining quotes from several Gas and electricity provider in a timely manner without the church having to do anything
- Once the Church agrees on what quote to proceed with, Mycos Ltd handles everything else for us. From ending the old contract to changing the contract to the new provider and setting up the direct debit payments
- The service is very reliable as John contacts us with quotes ahead of the contract end date giving us plenty of time to decide on the next provider to go with
- Their service has taken away the need to search for cheaper providers and the time saved is spent doing other things for the church
- Also, being able to sign the contract electronically also makes it so Fast, effortless and very convenient.
- No paperwork is required with mycos services and that makes it so simple to useSyreeta Gunn | Treasurer | Glasgow City Church-"We have used John at Mycos for Ps & Gs energy advice for many years to help us evaluate the most efficient contracts for our different properties. John has always been able to help us look at the various options open to us and make decisions which help us budget our utility costs in a clear and financially prudent way. John also handles the contract changes which is really helpful."
 
Mairi Simpson | Finance Administrator | St Paul's & St George's Church | Edinburgh-
Contact us today for the best green energy prices.


Green Offer Details
- Up to £100 off per supply.
- Make an enquiry by Friday 9th October 2020, and when your current contract comes up for renewal.
- Mycos will discount by up to £100 our normal rates.
- Even if your contract is not due up for two or three years from now, the offer is still valid.Terms and Conditions:
- This is for Green Electric or Green Gas
- Discount is per supply, so if you have electric and gas, then up to £200 would be available
- If multiple supplies, discount is still available per supply
- Enquiry by the contact form at the bottom of this page
- An enquiry is just that, you are not committed to our service, so you are free to browse before you buy. Mycos is a service company, not a sales company, customers stay with us because they benefit from our prices, advice and service.
- Discount levels as follows:
Consumption up to 10000 kwh £10
Consumption 10001 to 20000 kwh £30
Consumption 20001 to 50000 kwh £50
Consumption 50001 to 100 000 kwh £75
Consumption 100 000 kwh and above £100
Green Offer Enquiry

Privacy Notice
www.mycos.co.uk ('Website') is provided by Mycos Consulting Ltd ('we'/'us'/'our'). In doing so, we may be in a position to receive and process personal information relating to you. As the controller of this information, we're providing this Privacy Notice ('Notice') to explain our approach to personal information. This Notice forms part of our Terms of Use, which governs the use of this Website.
We intend only to process personal information fairly and transparently as required by data protection law including the General Data Protection Regulation (GDPR). In particular, before obtaining information from you we intend to alert you to this Notice, let you know how we intend to process the information and (unless processing is necessary for at least one of the 5 reasons outlined in clause 2 below) we'll only process the information if you consent to that processing. The GDPR also defines certain 'special categories' of personal information that's considered more sensitive. These categories require a higher level of protection, as explained below.
Of course, you may browse parts of this Website without providing any information about yourself and without accepting cookies. In that case, it's unlikely we'll possess and process any information relating to you.
We'll start this Notice by setting out the conditions we must satisfy before processing your data. However, you may wish to skip to clause 4, which summarises what we intend to collect. The Notice also explains some of the security measures we take to protect your personal information, and tells you certain things we will or won't do. You should read this Notice in conjunction with the Terms of Use.
Sometimes, when you take a new service or product from us, or discuss taking a new service or product but decide against, we might wish to provide you with further information about similar services or products by email or other written electronic communication. In that situation, we will always give you the opportunity to refuse to receive that further information and if you change your mind please let us know. We'll endeavour to remind you of your right to opt-out on each occasion that we provide such information.
1 Identity and contact details
1.11 Place of business: 553b Lanark Road, Edinburgh, Midlothian, EH14 5DE
1.12 Registered office: 39 Currievale Park, Edinburgh, Midlothian, EH14 5TL
1.2 Contact email address: mycos@mycos.co.uk
2 When we're allowed to collect information from you
We will only collect personal information relating to you if one of the following conditions have been satisfied:
2.1 You have clearly told us that you are content for us to collect that information for the certain
purpose or purposes that we will have specified.
2.2 The processing is necessary for the performance a contract that we have with you.
2.3 The processing is necessary so that we can comply with the law.
2.4 The processing is necessary to protect someone's life.
2.5 The processing is necessary for performance of a task that's in the public interest.
2.6 The processing is necessary for our or another's legitimate interest - but in this case, we'll balance those interests against your interests.
3 How to consent
3.1 At the point of collecting the information, we'll endeavour to explain how we intend to use the information and which of these purposes apply. If we rely on consent, we'll provide you with the opportunity to tell us that you're happy to provide the information.
3.2 If at any point in time you change your mind and decide that you don't consent, please let us know and we'll endeavour to stop processing your information in the specified manner, or we'll delete your data if there is no continuing reason for possessing it.
3.3 If you don't consent to a particular bit of processing, we'll endeavour to ensure that the Website and our service continue to operate without the need for that information.
4 Information we expect to collect from you
4.1 We envisage asking for the following types of information from you:
| Information type | Purpose and related details | Justification |
| --- | --- | --- |
| Contact Information | We ask for this to verify your identity when you contact us | We'll ask for your consent |
| Name and email address | We ask for this to reply properly to website enquiries | It's necessary for a legitimate interest, having weighed this against competing interests |
4.2 We may collect personal information about you from a number of sources, including the following:
4.2.1 From you when you agree to take a service or product from us, in which case this may include your contact details, date of birth, how you will pay for the product or service and your bank details.
4.2.2 From you when you contact us with an enquiry or in response to a communication from us, in which case, this may tell us something about how you use our services.
4.2.3 From documents that are available to the public, such as the electoral register.
4.2.4 From third parties to whom you have provided information with your consent to pass it on to other organisations or persons - when we receive such information we will let you know as soon as is reasonably practicable.
4.3 If you refuse to provide information requested, then if that information is necessary for a service we provide to you we may need to stop providing that service.
4.4 At the time of collecting information, by whichever method is used, we'll endeavour to alert you and inform you about our purposes and legal basis for processing that information, as well as whether we intend to share the information with anyone else or send it outside of the European Economic Area. If at any point you think we've invited you to provide information without explaining why, feel free to object and ask for our reasons.
5 Using your personal information
5.1 Data protection, privacy and security are important to us, and we shall only use your personal information for specified purposes and shall not keep such personal information longer than is necessary to fulfill these purposes. The following are examples of such purposes. We have also indicated below which GDPR justification applies, however it will depend on the circumstances of each case. At the time of collecting we will provide further information, and you may always ask for further information from us.
5.1.1 To help us to identify you when you contact us. This will normally be necessary for the performance our contract.
5.1.2 To help us to identify accounts, services and/or products which you could have from us or selected partners from time to time. We may do this by automatic means using a scoring system, which uses the personal information you've provided and/or any information we hold about you and personal information from third party agencies (including credit reference agencies). We will only use your information for this purpose if you agree to it.
5.1.3 To help us to administer and to contact you about improved administration of any accounts, services and products we have provided before, do provide now or will or may provide in the future. This will often be necessary, but sometimes the improvements will not be necessary in which case we will ask whether you agree.
5.1.4 To allow us to carry out marketing analysis and customer profiling (including with transactional information), conduct research, including creating statistical and testing information. This will sometimes require that you consent, but will sometimes be exempt as market research.
5.1.5 To help to prevent and detect fraud or loss. This will only be done in certain circumstances when we consider it necessary or the law requires it.
5.1.6 To allow us to contact you by written electronic means (such as email, text or multimedia messages) about products and services offered by us where:
5.1.6.1 these products are similar to those you have already purchased from us,
5.1.6.2 you were given the opportunity to opt out of being contacted by us at the time your personal information was originally collected by us and at the time of our subsequent communications with you, and
5.1.6.3 you have not opted out of us contacting you.
5.1.7 To allow us to contact you in any way (including mail, email, telephone, visit, text or multimedia messages) about products and services offered by us and selected partners where you have expressly consented to us doing so.
5.1.8 We may monitor and record communications with you (including phone conversations
and emails) for quality assurance and compliance.
5.1.8.1 Before doing that, we will always tell you of our intentions and of the specific purpose in making the recording. Sometimes such recordings will be necessary to comply with the law. Alternatively, sometimes the recording will be necessary for our legitimate interest, but in that case we'll only record the call if our interest outweighs yours. This will depend on all the circumstances, in particular the importance of the information and whether we can obtain the information another way that's less intrusive.
5.1.8.2 If we think the recording would be useful for us but that it's not necessary we'll ask whether you consent to the recording, and will provide an option for you to tell us that you consent. In those situations, if you don't consent, the call will either automatically end or will not be recorded.
5.1.9 When it's required by law, we'll check your details with fraud prevention agencies. If you provide false or inaccurate information and we suspect fraud, we intend to record this.
5.2 We will not disclose your personal information to any third party except in accordance with this Notice, and in particular in these circumstances:
5.2.1 They will be processing the data on our behalf as a data processor (where we'll be the data controller). In that situation, we'll always have a contract with the data processor as set out in the GDPR. This contract provides significant restrictions as to how the data processor operates so that you can be confident your data is protected to the same degree as provided in this Notice.
5.2.2 Sometimes it might be necessary to share data with another data controller. Before doing that we'll always tell you. Note that if we receive information about you from a third party, then as soon as reasonably practicable afterwards we'll let you know; that's required by the GDPR.
5.2.3 Alternatively, sometimes we might consider it to be in your interest to send your information to a third party. If that's the case, we'll always ask whether you agree before sending.
5.3 Where you give us personal information on behalf of someone else, you confirm that you have provided them with the information set out in this Notice and that they have not objected to such use of their personal information.
5.4 We may allow other people and organisations to use personal information we hold about you in the following circumstances:
5.4.1 If we, or substantially all of our assets, are acquired or are in the process of being acquired by a third party, in which case personal information held by us, about our customers, will be one of the transferred assets.
5.4.2 If we have been legitimately asked to provide information for legal or regulatory purposes or as part of legal proceedings or prospective legal proceedings.
5.4.3 We may employ companies and individuals to perform functions on our behalf and we may disclose your personal information to these parties for the purposes set out above, for example, for fulfilling orders, delivering packages, sending postal mail and email, removing repetitive information from customer lists, analysing data, providing marketing assistance, providing search results and links (including paid listings and links) and providing customer service. Those parties will be bound by strict contractual provisions with us and will only have access to personal information needed to perform their functions, and they may not use it for any other purpose. Further, they must process the personal information in accordance with this Notice and as permitted by the GDPR. From time to time, these other people and organisations to whom we may pass your personal information may be outside the European Economic Area. We will take all steps reasonably necessary to ensure that your personal information is treated securely and in accordance with this Notice and the GDPR.
6 Protecting information
6.1 We have strict security measures to protect personal information.
6.2 We work to protect the security of your information during transmission by using Secure Sockets Layer (SSL) software to encrypt information you input.
6.3 We reveal only the last five digits of your credit card numbers when confirming an order. Of course, we transmit the entire credit card number to the appropriate credit card company during order processing.
6.4 We maintain physical, electronic and procedural safeguards in connection with the collection, storage and disclosure of personally identifiable customer information. Our security procedures mean that we may occasionally request proof of identity before we disclose personal information to you.
6.5 It is important for you to protect against unauthorised access to your password and to your computer. Be sure to sign off when you finish using a shared computer.
7 The internet
7.1 If you communicate with us using the internet, we may occasionally email you about our services and products. When you first give us personal information through the Website, we will normally give you the opportunity to say whether you would prefer that we don't contact you by email. You can also always send us an email (at the address set out below) at any time if you change your mind.
7.2 Please remember that communications over the internet, such as emails and webmails (messages sent through a website), are not secure unless they have been encrypted. Your communications may go through a number of countries before they are delivered - this is the nature of the internet. We cannot accept responsibility for any unauthorised access or loss of personal information that is beyond our control.
7.3 The Website may include links to third-party websites. We do not provide any personally identifiable customer personal information to these third-party websites unless you've consented in accordance with this privacy notice.
7.4 We exclude all liability for loss that you may incur when using these third-party websites.
8 Further information
8.1 If you would like any more information or you have any comments about this Notice, please either write to us at Data Protection Manager, Mycos Consulting Ltd, 553b Lanark Road, Edinburgh, Midlothian, EH14 5DE, or email us at mycos@mycos.co.uk.
8.2 Please note that we may have to amend this Notice on occasion, for example if we change the cookies that we use. If we do that, we will publish the amended version on the Website. In that situation we will endeavour to alert you to the change, but it's also your responsibility to check regularly to determine whether this Notice has changed.
8.3 You can ask us for a copy of this Notice by writing to the above address or by emailing us at mycos@mycos.co.uk. This Notice applies to personal information we hold about individuals. It does not apply to information we hold about companies and other organisations.
8.4 If you would like access to the personal information that we hold about you, you can do this by emailing us at mycos@mycos.co.uk or writing to us at the address noted above. There is not normally a fee for such a request, however if the request is unfounded, repetitive or excessive we may request a fee or refuse to comply with your request. You can also ask us to send the personal information we hold about you to another controller.
8.5 We aim to keep the personal information we hold about you accurate and up to date. If you tell us that we're holding any inaccurate or incomplete personal information about you, we will promptly amend, complete or delete it accordingly. Please email us at mycos@mycos.co.uk or write to us at the address above to update your personal information. You have the right to complain to the Information Commissioner's Office if we don't do this.
8.6 You can ask us to delete the personal information that we hold about you if we relied on your consent in holding that information or if it's no longer necessary. You can also restrict or object to our processing of your personal information in certain circumstances. You can do this by emailing us at mycos@mycos.co.uk or writing to us at the address noted above.
8.7 We will tell you if there is a breach, or a likely breach, of your data protection rights.
terms of use
Please read these terms and conditions (these 'Terms') carefully as they contain important information about your rights and obligations when using this website (the 'Website') and in particular clause 9.6 and 9.7. You should print a copy of these terms for future reference.
This Website is provided by Mycos Consulting Ltd. Our place of business is 553b Lanark Road, Edinburgh, Midlothian, EH14 5DE.
1 How these Terms apply
1.1 By using the Website you are agreeing to comply with and be bound by these Terms regarding the use of the Website in consideration for us allowing you to access and use the Website. You must not use the Website if you do not agree to comply with and be bound by these Terms.
1.2 Use of the Website includes accessing or browsing the Website.
1.3 We reserve the right to change these Terms at any time. We will take reasonable steps to make you aware of any changes to the Terms, for example by posting them on the Website. You agree to be bound by the version of these Terms displayed on the Website at the time you use it.
1.4 These Terms refer to the following, which also apply when using this Website:
1.4.1 Privacy Notice, which can be found at www.mycos.co.uk/#privacy
2 Access
2.1 You are responsible for making all arrangements necessary for you to have access to the Website.
2.2 You are responsible for ensuring that all persons who access the Website through your internet connection are aware of these Terms, and that they comply with them.
2.3 We make reasonable efforts to ensure that the Website is available to view and use 24 hours a day throughout each year; however, this is not guaranteed. The Website may be temporarily unavailable at any time because of server or systems failure or other technical issues, or reasons that are beyond our control, required updating, maintenance or repair.
2.4 Where possible, we will try to give you advance warning of maintenance issues but shall not be obliged to do so.
3 Intellectual property
3.1 In these Terms, Intellectual Property Rights mean copyright (including design copyrights), trade marks, patent, database and other intellectual property rights and similar proprietary rights which include, (without limitation), all rights in software, design, materials, works, techniques, computer programs, source codes, data, technical information, trading business brand names, goodwill, service marks, the style or presentation of the goods or services, creations, inventions or improvements upon or additions to an invention, confidential information, know-how and any research effort relating to Mycos Consulting Ltd, moral rights and any similar rights in any country (whether registered or unregistered and including applications for and the right to apply for them in any part of the world).
3.2 The software code contained in and related to the Website and the materials on the Website including text, images, videos, photographs and other materials are protected by Intellectual Property Rights owned by us and our licensors. You acknowledge that the Intellectual Property Rights in the Website and any software code used with and material supplied as part of the Website shall remain with us or our licensors.
3.3 Subject to clause 4 you may:
3.3.1 retrieve and display materials on the Website on a computer screen;
3.3.2 download and store in electronic form materials on the Website; and
3.3.3 copy and print one copy only of materials on the Website.
3.4 Copying, downloading, storing or printing the materials on the Website for any reason other than personal use or in accordance with clause 4.2.2 is expressly prohibited.
3.5 You agree that you will not (and will not assist or facilitate any third party to) otherwise reproduce, modify, copy, distribute, transmit, publish, display, commercially exploit or create derivative works from any of the materials on the Website.
3.6 No licence is granted to you to use any of our trade marks or those of our affiliated companies.
3.7 You agree that you will not use our Intellectual Property Rights in any way other than allowed under these Terms and any infringement by you of our Intellectual Property Rights will be a breach of these Terms.
4 Use of the Website
4.1 You are permitted to use the Website and the material contained in it only as expressly authorised by us and in accordance with these Terms as may be amended from time to time without notice to you.
4.2 Provided that you comply with the other provisions of this clause, you may download or print one copy only of pages of our website:
4.2.1 for your own private use; or
4.2.2 to draw attention to the content of our website to members of your organisation.
4.3 You must not:
4.3.1 download or print pages of the Website for commercial use other than use permitted by clause 4.2.2;
4.3.2 alter the content of any webpage you download or print; or
4.3.3 use any images, videos or photographs on the webpage without the accompanying text.
4.4 You must:
4.4.1 keep intact all and any copyright and proprietary notices accompanying or attached to the materials on the Website you download, copy, store or print;
4.4.2 acknowledge us as the owners of the content of the Website;
4.4.3 erase any pages of the Website or materials on those pages downloaded other than in accordance with this clause; and 4.4.4 destroy any pages of the Website or materials on those pages printed other than in accordance with this clause.
4.5 You must not modify, adapt, translate, reverse engineer, decompile or disassemble any code or program used by or in connection with the Website. You must contact us to request our consent if you wish to take any such action to create an interoperable program and we may provide such consent if you provide us with the information we request.
4.6 We provide access to and use of the Website on the basis that we exclude all representations,
warranties and conditions to the maximum extent permitted by law.
4.7 We reserve the right to:
4.7.1 Make changes to the information or materials on this Website at any time
4.7.2 Temporarily or permanently change, suspend or discontinue any aspect of the Website,
including the availability of any features, information, database or content or restrict access to parts of or the entire Website without notice or liability to you or any third party
4.7.3 Refuse to post material on the Website or to remove material already posted on the Website
4.8 You may not use the Website for any of the following purposes:
Page 2 of 6
4.8.1 Disseminating any unlawful, harassing, libellous, abusive, threatening, fraudulent, malicious, harmful, vulgar, obscene, or otherwise objectionable material
4.8.2 Stalking, harassing, threatening, blackmailing any person or violating or interfering with the rights of any other person including their right to privacy
4.8.3 Transmitting material that encourages conduct that constitutes a criminal offence, results in civil liability or otherwise
4.8.4 Breaching any applicable local, national or international laws, regulations or code of practice
4.8.5 Gaining unauthorised access to other computer systems
4.8.6 Interfering with any other person's use or enjoyment of the Website
4.8.7 Breaching any laws concerning the use of public telecommunications networks
4.8.8 Interfering with, disrupting or damaging networks or websites connected to the Website
4.8.9 Utilisation of data mining, robots or similar data gathering and extraction tools to extract
(whether once or many times) for re-utilisation of any substantial parts of the Website or the contents of the Website
4.8.10 To transmit, or procure the sending of, any unsolicited or unauthorised advertising or promotional material or any other form of similar solicitation
4.8.11 To create and/or publish your own database that features all or substantial parts of the Website or the contents of the Website
4.8.12 Making, transmitting or storing electronic copies of materials protected by copyright without the prior permission of the owner
4.8.13 Selling or re-selling or using for commercial purposes any of the content of or access to the Website or using for commercial purposes any of the content of or access to the Website
4.8.14 To represent to others that there is any connection between the Website and your business or your views and opinions or that we endorse you or anything connected to you
4.9 In addition, you must not:
4.9.1 Knowingly introduce viruses, Trojans, worms, logic bombs, keystroke loggers, spyware, adware or other material which is malicious or technologically harmful to the Website
4.9.2 Impersonate any other person or fraudulently provide us with incorrect information
4.9.3 Attempt to gain unauthorised access to the Website, the server on which the Website is stored or any server, computer or database connected to it
4.9.4 Attack the Website via a denial-of-service attack or a distributed denial-of service attack
4.9.5 Damage, disrupt or interfere with any part of the Website, any equipment or network on which the Website is stored or any software used for the provision of the Website
4.9.6 Remove any copyright notice or notice of any other intellectual property right from the Website or any materials on the Website
4.10 A breach of clause 4.9 or 4.8 may be a criminal offence under the Computer Misuse Act 1990. We may report any such breach to the relevant law enforcement authorities and disclose your identity to them. In the event of such a breach, your right to use the Website will cease immediately.
5 Suspending or terminating your access
We reserve the right to terminate or suspend your access to the Website immediately and without notice to you if:
5.1 You breach these Terms (repeatedly or otherwise)
5.2 You are impersonating any other person or entity
5.3 When requested by us to do so, you fail to provide us within a reasonable time with sufficient
information to enable us to determine the accuracy and validity of any information supplied by you, or your identity
5.4 We suspect you have engaged, or are about to engage, or have in any way been involved, in fraudulent, defamatory or illegal activity on the Website
6 Linking to the Website
6.1 You must not create a link to the Website from another website, document or any other source
without first obtaining our prior written consent.
6.2 Any agreed link must:
6.2.1 Be to the Website's homepage and not to any other page on the Website
6.2.2 Be established from a website or document that is owned by you and does not contain content that is offensive, controversial, defamatory, infringes any intellectual property
rights or other rights of any other person or does not comply in any way with the law in the UK and the law in any country from which they are hosted
6.2.3 Be provided in such a way that is fair and legal and does not damage our reputation or take advantage of it
6.2.4 Not suggest any form of association, approval or endorsement on our part where none exists
6.2.5 Not cause the Website or content on the Website to be embedded in or 'framed' by any other website
6.2.6 Not cause the content of the Website to be displayed differently from the way it appears on the Website
6.3 We have no obligation to inform you if the address of the Website home page changes and it is your responsibility to ensure that any link you provide to our homepage is at all times accurate.
6.4 We reserve the right to withdraw our consent without notice and without providing any reasons for withdrawal. Upon receiving such notice you must immediately remove the link and inform us once this has been done.
7 External links
To provide increased value and convenience to our users, we may provide links to other websites or
resources for you to access at your sole discretion and risk. You acknowledge and agree that, as you have chosen to enter the linked website we are not responsible for the availability of such external sites or resources, and do not review or endorse and are not responsible or liable in any way, whether directly or indirectly, for:
7.1 The privacy practices of such websites
7.2 The content of such websites, including (without limitation) any advertising, content, products, goods or other materials or services on or available from such websites or resources
7.3 The use which others make of these websites
7.4 Any damage, loss or offence caused or alleged to be caused to you, arising from or in connection
with the use of or reliance upon any such advertising, content, products, goods, materials or services available on and/or purchased by you from such external websites or resources
8 Disclaimer
8.1 The content on the Website is provided for general information only. It is not intended to be advice on which you should rely. It shall be your responsibility to ensure that any products, services or information available through the website meet your specific requirements.
8.2 We attempt to ensure that the information available on the Website at any time is accurate. However, we do not guarantee the accuracy or completeness of material on this Website. We use all reasonable endeavours to correct errors and omissions as quickly as practicable after becoming aware or being notified of them. We make no commitment to ensure that such material is correct or up to date.
8.3 The Website is provided on an 'as is' and 'as available' basis without any representation or endorsement made and we make no warranties or guarantees, whether express or implied, statutory or otherwise (unless otherwise expressly stated in these Terms or required by law).
8.4 We make no representation or warranty of any kind express or implied statutory or otherwise regarding the availability of the Website or that it will be timely or error-free, that defects will be corrected, or that the Website or the server that makes it available are free of viruses or bugs.
8.5 We will not be responsible or liable to you for any loss of content or material uploaded or transmitted through the Website and we accept no liability of any kind for any loss or damage from action taken in reliance on material or information contained on the Website.
8.6 You are responsible for maintaining appropriate anti-virus software on and appropriately configuring the technological devices, platform and computer programs you use to access the Website that are in your control. You must bear the risk associated with the use of the internet. In particular, we will not be liable for any damage or loss caused by a distributed denial-of-service attack, any viruses, Trojans, worms, logic bombs, keystroke loggers, spyware, adware or other material which is malicious or technologically harmful that may infect your computer, peripheral computer equipment, computer programs, data or other proprietary material as a result of your use of the Website or you downloading any material posted or sold on the Website or from any website linked to it.
9 Limitation of liability and indemnity
9.1 If you are a consumer, nothing in these Terms affects your legal rights. You can obtain advice about your legal rights from Citizens Advice if you need to.
9.2 We cannot exclude or limit our responsibility to you for:
9.2.1 Death or personal injury resulting from our negligence
9.2.2 Fraud or fraudulent misrepresentation
9.2.3 Action pursuant to section 2(3) of the Consumer Protection Act 1987
9.2.4 Any liability, right or remedy which we cannot exclude or limit pursuant to the Consumer Rights Act 2015
9.2.5 Any other matter for which it would be unlawful for us to exclude or attempt to exclude our liability
9.3 We will not be liable, in contract or delict (including, without limitation, negligence), or in respect of pre-contract or other representations (other than fraudulent or negligent misrepresentations) or otherwise for the below mentioned losses where they have arisen from use of or inability to use the Website for commercial purposes, or use of or reliance on any material or content displayed on the Website or on any linked websites for commercial purposes:
9.3.1 Any economic losses (including without limitation loss of revenues, profits, contracts,
business or anticipated savings)
9.3.2 Any loss of goodwill or reputation
9.3.3 Any special or indirect losses
9.3.4 Any loss of data
9.3.5 Wasted management or office time
9.3.6 Any other loss or damage of any kind
9.4 If you are not a consumer we exclude all liability, including any liability in negligence, arising from your use or inability to access or use the Website other than that referred to in clause 9.2.
9.5 If you are a consumer, we are responsible for foreseeable loss or damage which you suffer as a result of a breach by us of the Terms or as a result of our failure to act with reasonable care and skill. Loss or damage is foreseeable if either it is obvious that it will happen or if, at the time the contract was made, both we and you knew it might happen, for example, if you discussed it with
us before using the Website. We are not responsible for unforeseeable losses.
9.6 If you are not a consumer, you agree to fully indemnify, defend and hold us, our officers, directors, employees and suppliers, harmless immediately on demand, from and against all claims, including but not limited to losses (including loss of profit, revenue, goodwill or reputation), costs and expenses, including reasonable administrative and legal costs, arising out of any breach of these Terms by you, or any other liabilities arising out of your use of this Website or any other person accessing the Website using your personal information with your authority.
9.7 If you are a consumer you agree to fully reimburse us, our officers, directors, employees and suppliers for all losses (including loss of profit, revenue, goodwill or reputation), costs and expenses, including reasonable administrative and legal costs, arising out of any breach of these Terms by you, or any other act or omission by you in using the Website or by any other person
accessing the Website using your personal information with your authority that results in any legal responsibility on our part to any third party.
10 Use of personal data
10.1 We envisage that we will request personal information from you whilst you use our website. This information will only be requested and processed in accordance with our Privacy Notice, which can be found at www.mycos.co.uk/#privacy.
10.2 In brief, we will act fairly in connection with personal information requested from you, when we request information we will alert you to our Privacy Notice, and unless the information is necessary for a reason specified in the General Data Protection Regulation (GDPR) we will only process it with your consent. Before receiving your information, we'll endeavour to provide the information required by the GDPR.
11 General
11.1 We reserve the right to change the domain address of this Website and any services, products, product prices, product specifications and availability at any time.
11.2 Each of the sub-clauses of these Terms should be considered separately. If any of these Terms are found to be unenforceable, invalid or illegal, the rest of these Terms will continue to have full effect.
11.3 These Terms are in English only.
11.4 We will not lose our rights under these Terms by reason of any delay by us in enforcing those rights. We will not be bound by any agreement not to enforce our rights under these Terms unless we have agreed not to do so in writing.
11.5 Any delay by us in enforcing our right, non-enforcement of our rights or agreement not to enforce our rights in respect of one breach by you of these Terms will not prevent us from fully enforcing our rights in respect of any other breach by you of these Terms.
12 Governing law and jurisdiction
12.1 The Website is controlled and operated in the United Kingdom.
12.2 If you are a business, these Terms are governed by the laws of Scotland and the courts of Scotland shall have exclusive jurisdiction over legal proceedings in connection with your use of the Website, any breach of these Terms and any question in connection with the interpretation or application of these Terms.
12.3 If you are a consumer these Terms are governed by the laws of Scotland and you can bring legal proceedings in the Scottish courts. If you live in England or Wales you can bring legal proceedings in either the courts of Scotland or England and Wales. If you live in Northern Ireland you can bring legal proceedings in either the courts of Northern Ireland or Scotland. If you live in another country in the EU, you can bring legal proceedings in either the courts of your home country or Scotland.
thank you!
We've got your email, and we'll be back in touch with you shortly.
How about GDPR?
Our privacy notice describes how we will handle the information that you send to us. You can read it here


| | Mycos | Comparison sites |
| --- | --- | --- |
| Have a quick chat with you to discuss your energy needs before quoting | ✔ | - |
| Spend the time doing the search for you, so you can get on with your job | X | - |
| Compare the market and provide you with best prices options | X | X |
| Filter out companies with bad customer service | X | - |
| Explain tariff options and each suppliers 'green' credentials | X | - |
| Provide a spreadsheet for you to discuss internally | X | - |
| Give you time to decide and not pressure you over the phone for an instant decision | X | - |
| Won't try and sell you anything else at the same time | X | - |
| Handle the switch on your behalf | X | X |
| Cancel your existing supplier | X | X |
| Sort out any billing discrepancies for you | X | - |
| Always have a dedicated account manager available should anything go wrong | X | - |
Due to Coronavirus homeworking, please contact us by email on mycos@mycos.co.uk